Welcome to Preferred Travel & Company!
Olga Placeres
CFO & Manager
For More Information
239-261-1177
or 800-523-3716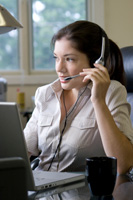 Catapult Your Business and Maximize Your Profits by joining our luxury Preferred Host Agency, a division of Preferred Travel & Company, a 25 year old luxury travel agency with an impeccable reputation, a corporate culture of innovation, growth and support, and a history of travel staff service longevity.
Increase your bottom line...in today's economic climate? Yes! We are looking for successful travel agencies and travel agents who want to reduce their overhead, increase their profits, and grow their own client base by joining our family at Preferred Travel & Company Preferred Travel & Company has provided its shared success host agency solution of technology, support, training and marketing to Independent Contractors since 1984 and we're offering this to you!
Testimonials
"Preferred Travel & Company is a welcoming team environment for Independent Contractors. Their strong supplier relationships and the Signature Travel Network assure my clients receive the best service, pricing, and amenities."
-- Jennie Cox, Travel Agent/Independent Contractor
"For over 17 years, I've loved working with Preferred Travel & Company. Their reputation is impeccable in the Naples community and the travel industry. They offer a lot of support and the best supplier relationships in the business."
-- Pat Classen, Travel Agent/Independent Contractor
Benefits of Working with Preferred Host Agency
Customized Compensation Packages
Call for your custom solution today!
Signature Travel Network Membership
Over $3.5 Billion in buying power for the highest commission rates available
Exclusive Signature privileges and amenities for cruises, hotels and tours
Online cruise booking engine powered by Sabre and Client Base
Personalized email and direct mail marketing campaigns & programs
State of the Art Technology
Sabre and Worldspan, TRAMS and Client Base, the world leading back office system and the most efficient CRM on the market today provide invoicing, up-to-date commission tracking and personalized marketing. Maximize your client relationships and optimize your business efficiency by partnering with us.
Marketing Campaigns and Programs
Valuable personalized lead generating direct mail & email.
Experienced Administrative Support
With over 30 years of business experience and the largest full-service travel agency in Southwest Florida . We've proven that transparency in every aspect of our business enables you to track sales and commissions to stay on top of your business at all times.
Custom Travel Agent Website
Design and hosting available.
Errors & Omissions Insurance
$1 million of insurance coverage provided.
Top -Tier Supplier Commissions and Blocked
Group Cruise Space
Abercrombie & Kent Top 100
Celebrity Cruises Top Key Account
Cunard Inner Circle Award
Crystal Cruises "Top 10" Worldwide
Holland America Centurion Agency
NCL Captain's Club Award
Princess Cruises I-Excel Top Producer
Regent Top Producer
RCCL Top Key Account Agency
Seabourn Inner Circle Agency
Silversea Top Producer
Tauck Tours Top Producer
Walt Disney Travel Earmark Top Producer
Comprehensive Training Program
In-depth sales, product , destination and technology training backed by the state of the art, members only Intranet.
IATAN and CLIA cards available
24/7 Travel Help Desk
Dedicated to your success and available for emergency services.